Channel 5 News in Los Angeles ran a piece a while back on "how to look hot at the gym." Really ladies?
If you really want LEAN mASS, here's how to get it minus the plastic…
Dear Los Angeles females who think that spending time to look HOT to go to the gym is better than actually getting HOT at the gym. I have news for you…
I am a FMS (Functional Movement Screen) specialist. That means I have special training to assess the functionality of your body. Time and time again I get younger women clients who have had a "mommy makeover." If you happen to be plastic surgery illiterate, let me fill you in.  That means they have had a tummy tuck, lipo, and a boob job. Yes, they look great, but for the majority of my clients who have this done, they have severe back pain. Maybe that tummy tuck is too tight, they can't do much of anything without pain.
My other typical client is older, has been training at the gym for years on and off.  Often time they run. They typically tell me they have done machines, aerobic classes, and some light weight lifting as they didn't want to get bulky. These women in large numbers cannot get up from a lunge position. They are shocked and a little angry that they cannot master what they think they should be able to do.
Here is the problem….THE MEDIA HAS LIED TO YOU!!!! True health and fitness doesn't come by looking good with the help of surgery, minimalist pink weights, or Special K. Most of what the media brings you is images of aneroxic, skinny fat (size 2 with 30% body fat) and hungry and grumpy females with big teethy smiles.  They are weak. I am 54 (and fun!); I have put function and strength in my body through measurable efforts and TIME. I routinely train with kettlebells that weigh 35-55 pounds. I get up off the floor with them over my head. Not because I am forcing some effort for media attention. I want to be strong and functional because…
I never want to say, "I have fallen and can't get up!"
Often times when I am working out on my own at a park, women will come over and ask me how to get THOSE ABS! Then I tell them the truth.
SWEAT, CONSISTENCY, DISCIPLINE, LEARN HOW TO TRAIN, NOT JUST WORKOUT.  [Insert image of deer in the headlight stare.]
"Where is the PINK kettlebell?"
I don't have a PINK Kettlebell. I HAVE A BLACK KETTLEBELL. I started with 12 KGs, that is about 26 pounds. To change your body, you have to start by maintaining your lean muscle mass. To maintain your lean muscle mass, you have to first learn how to pick up heavy things. To learn how to pick up heavy things, you MUST deal with the functionality of your body. Most women I know have lost so much functionality due to poor training habits, sitting lifestyle, or reoccurring overuse injuries.
The Functional Movement Screen details where you have lost functionality.  Based on your FMS, and corrective exercises, you can get that function back. Increased functionality will lead to the right muscle groups doing what they are designed to do without cheating your way through your workout. Less cheating means more actual work. More work means greater strength, more strength means more lean muscle mass, more lean muscle mass mans more total calories burned while you sleep. More total calories burned means a leaner you without STARVING!
Most commercial workout infomercials and group exercise classes are just designed to make you sweat. They do not deal with the functionality of your body. While it is great that you have biceps, it is not worth cost of lost ability to raise your straight arm over your head.  Training without first addressing functional movement is like playing a piano concerto without first knowing or practicing musical scales.  It not only looks scary, it sounds awful.
True strength, fitness, and overall health is EARNED.
Most of the time, my workouts take less time that it does for me to wash and dry my hair. That is because I train. I don't workout for distraction or entertainment. I am focused. I am 54; I have abs. Most importantly, my body is functional.
I am not frail; I am strong.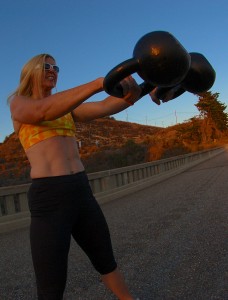 So go ahead Los Angeles media culture, keep telling women lies. Tell them they have to primp to look good at the gym, because in LA, looking good trumps anything to do with function. In LA, if you look good, you know what you are doing even if it is a big fat media lie. I will be here with REAL strength and health that is measurable by scientific data, not photoshop and airbrushing.
In Strength–NOT Hype,
Candas Jones, MA
StrongFirst Level II Kettlebell Instructor