News Flash!  Our "peak" for American fitness AND health was over 100 years ago, so let's learn from history and get to work improving!
Ironically, many of our "elite" athletes today cannot perform many of the routine fitness tasks performed in gymnasiums during the late 1800s and early 1900s which were peak years of the "Physical Culture" movement that largely influenced millions of Americans for decades.  Need proof?  Here's just one example "after" we saw significant fitness decreased compared to the early 20th century standards…but please note! The real learning here is NOT the obvious "physical fitness" demonstrated in the video, but rather, it's the backstory on exercise psychology and the "motivation" facilitated by Coach LeProtti.  
Following WWII, there was growing concern about our decreasing fitness nationally. President Kennedy had grown up in a physical culture and greatly valued physical fitness. With JFK's vision and support, we saw a short spike in national physical education programs again which faded significantly by the end of the 1960s and has continued to slide into what today has become a very unhealthy society.  Back in the early sixties, there was a legendary program by physical educator and coach Mr. Stan LeProtti in Carmichael, CA at La Sierra High School.  The "La Sierra System" was even featured in the January 1962 issue of Look Magazine.  *(Full article linked below)
The La Sierra System was based on a color system based on achievement.  The program did NOT use any machinery but only body weight, pull up bars, peg boards, ropes, etc.  It was focused on strength, endurance, power, agility, and balance. This system was adopted by 4,000 schools across the United States and was promoted as "the" system to adopt nationwide.  There were progressive levels of ability groups: White (beginner), Red (intermediate), Blue (advanced), Purple (advanced-II), and Gold (physically gifted), and eventually they even formed an elite level called "Navy Blue."
"Our program develops large groups of boys, instead of individuals.  Boys like to be challenged to do hard things, as long as you are fair with them.  It's an aggressive approach to education, based on pride."
-Stan LeProtti (1962)
The La Sierra System was revered nationally not just for physical education–but also for the other values this system stressed to young men such as maintaining minimum grade standards in PE, neatness, grooming, and citizenship.
Interestingly, upon researching La Sierra, I realized that my very own California high school had used the same system during the late 1970s! It was slightly modified into only four levels (Gray, White, Red, Red Satin), but what I can tell you "personally"–which parallels what I have read about Mr. LeProtti's program, is that it was very motivating.  In this program, boys would create fitness areas at home so they could practice and improve their ranks.  In 1975, I came in at the very bottom of the fitness ranks.  I was so mortified by my lack of physical prowess that I trained all summer long!  By my sophomore year, I was at the second level and was on my way to the third level by my junior year, but they abandoned the program due to social pressures.  Sadly, too many kids in the late 1970s could not perform the tests.  We went from having to "increase standards" in 1962 to complete elimination at my high school by 1976.  Therefore, we truly have been in a national regression in physical education for decades–not progression.
I can still remember how crushed I was because I wanted to achive my goal of getting to Level 3 Red.  In comparison, the La Sierra program had to actually "raise" their standards because too many of the young men were passing the lower standards.  What's an example of their standards?  In 1962, the minimum number of pull ups required to enter the Naval Academy was two–for the La Sierra "Blue" group, it was 13–remember that the Blue was only Level 3 out of 5 total. How many teen boys today can do 13 quality pull ups?  Gasp!  Precious few.  In a typical year at LaSierra, over 40% of the boys were at the Blue level.
The La Sierra system only spent 15 minutes per day on the vigorous fitness conditioning part of their curriculum.  Coach LeProtti must have studied history and knew that high-volume fitness with poor structure ultimately always fails. How could these kids get so fit in 15 minutes per day?!!! FOCUS. They focused on quality…and the rest was literally history. So much for the naysayers regarding a lack of time to exercise!
My point is that this program was HIGHLY MOTIVATING and extremely successful in thousands of American schools.  As a credentialed Physical Education teacher, I'm still working on my pull ups to this day while I think about my former high school color group PE program!  I'm finally up to 12 pull ups and working towards improving my all-time best which was 15.  At age 53, I'm almost up to the LaSierra "Blue" standards, so it can be done–if we work at it.
In a typical year at La Sierra, more than
40% of boys were at a Blue Level Rank!!!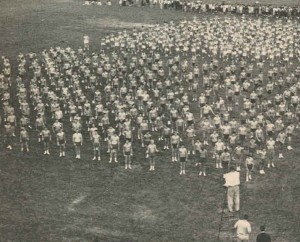 Unfortunately, we did not continue this short-term progression for physical fitness in the 1960s, but we can learn from the past so we CAN create a future of fitness not just for American youth–but for our whole country!
Get Fit.  Be Strong.  
Historical References: