We recently helped CSU, Northridge organize a large restorative arts workshop focused on the historical methods of "Indian Club" swinging but also included inversion table therapy, classroom review of the history of physical education and the physical culture, the art of group assembly and formations, bars and calisthenics, mace training, Bonnie Prudden Myotherapy, Neurokinetic Activation, and Sensory-Motor Prep using the SMARTROLLER and Feldenkrais Method.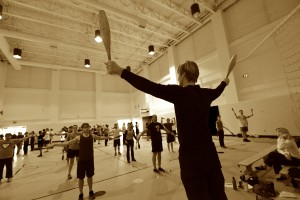 Counting support staff and students, we had close to 100 people for this two-day certification workshop under the guidance of Dr. Ed Thomas from the Iowa Department of Education.  The event was a great success well attended by university students, doctors, physical therapists, nurses, chiropractors, physical and classroom educators, elite martial arts instructors, dancers, fitness instructors, wellness coaches, theatre arts performance instructors, and a few general public folks with an interest in classical methods.
Indian Clubs and many of the classical methods presented are more examples of what we can learn from the past–to optimize a healthier future.  Thanks to everyone who helped out and attended–some even flying in from across the country.  See you next time!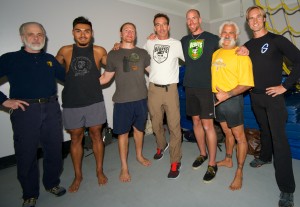 *Photos by Ron Jones/The Lean Berets. Copyright 2013
Presenters: